¡Las principales noticias que salen del campamento de Dirtybird hoy mientras profundizamos en la era de la transmisión en vivo! Durante los últimos meses, Dirtybird ha estado transmitiendo todos los domingos por la noche y como era de esperar, la respuesta ha sido masiva. Por lo tanto, entendiendo la necesidad continua de mantener viva la música y porque Dirtybird ama al rebaño más que nada, Dirtybird Live ha llegado! ¡Despeja tu horario porque esta programación llega llena hasta el borde!
Diez espectáculos, siete días a la semana. Sí, lo leíste bien. Durante toda la semana, la familia de beatmakers Dirtybird está lista para ponerte patas arriba y de adentro hacia afuera con una variedad de programas de entrevistas, sketches de comedia, sets de DJ y entrevistas. Claude VonStroke, Gene Farris, Steve Darko, Justin Jay, Worthy, Nalay Subset se han encerrado para difundir las vibraciones locas y se puede esperar todo tipo de sorpresas en el camino.
Además, aunque no llegaremos a Modesto este año, todavía podemos experimentar una de nuestras cosas favoritas sobre Dirtybird Campout.! Sintonice como la tripulación de Dirtybird estará lanzando espectáculos RENEGADE sin reglas durante toda la semana. Por supuesto, estos estarán golpeando las ondas de aire sin previo aviso, así que asegúrese de establecer sus notificaciones para cada vez que Dirtybird se pone en marcha en Twitch, YouTube, y Facebook!
No me estaba divirtiendo tanto durante la pandemia, pero tan pronto como empecé a trabajar en este proyecto con nuestro equipo algo cambió. Finalmente veo la oportunidad de volverme loco en línea y ahora estoy dedicado a traer la experiencia más loca, divertida e inmersiva para nuestros fans. Si no podemos tener Dirtybird Campout todavía podemos tratar de traer ese ambiente increíble a nuestra gente en línea.

P.S. Muchas gracias a Desert Hearts por inspirarnos y mostrarnos lo que es posible.

Claude VonStroke
¿Tienes una idea para un show? ¡Asegúrese de Dirtybirdlive.tv para obtener información sobre cómo enviar un piloto de espectáculo creado por fans! Para obtener más información sobre cada programa, continúe con el horario completo.
---
Dirtybird Live – Horario: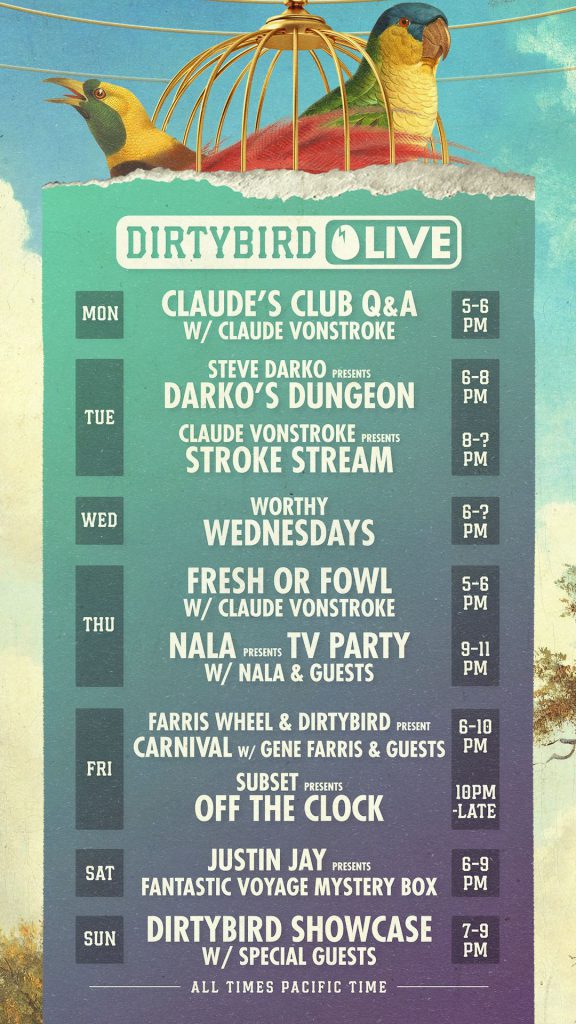 ---
Dirtybird Live – Horario y Descripción:
Dirtybird Live – Schedule & Show Description:
Claude's Club Q&A – Mondays 5-6pm (Talk + Music): Weekly "Ask ME Anything" format with Dirtybird Label Boss Claude VonStroke. Each week will focus on a topic.
Steve Darko presents Darko's Dungeon – Tuesdays 6-8pm (DJ Stream): One of Dirtybird's most prolific and talented producers brings you a Dj stream live from Boston, Mass with a theme straight out of "Tales From the Crypt."
Claude VonStroke presents Stroke Stream – Tuesdays 8-10pm (DJ Stream): The big bird spreads the word. Claude VonStroke takes to the decks for an open-ended set time featuring new label releases, classics, demos and everything in between.
Worthy Wednesdays – Wednesdays 6-9pm (DJ Stream): We're not Worthy! DJ stream with an original core Dirtybird member as he showcases his own label, Anabatic as well as throwing down an eclectic mix of bass-line heaters every week.
Fresh or Fowl with Claude VonStroke – Thursdays 5-6pm (Talk + Music): Take a journey through Claude VonStroke's actual vinyl collection. Claude cracks jokes and tells stories as he decides which vinyls he wants to keep (Fresh,) and which ones are getting ditched (Fowl.) The whole lighthearted experience takes place in VonStroke's home recording studio.
Nala presents TV party w/Special Guests – Thursdays 9-11pm (DJ Stream): The newest Dirtybird Player, Nala brings her VHS tape "TV Party" to the Dirtybird Live network. Every week she features a brand new guest DJ from the underground via a warehouse rave styled backdrop.
Farris Wheel & Dirtybird present Carnival – Fridays 6-10pm (DJ Stream): Chicago legend and long time friend of the flock, Gene Farris takes control of Dirtybird live with a 4-hour master session in DJ-ing. Every week features special guests and while bringing us the Carnival vibe of the amazing Farris Wheel Recordings.
Subset presents Off The Clock – Fridays 10pm-Late (DJ Stream): Anyone familiar with Twitch knows that Subset has been delivering the most user immersive and fun DJ experiences in the world. Long time friend of Claude VonStroke, Subset has always been the go-to after-party favorite on legendary events like Holy Ship. Come take a late-night trip with Subset!
Justin Jay presents Fantastic Voyage Mystery Box – Saturdays 6-8pm (DJ Stream + Anything Goes): Follow us on a mysterious trip through things like aquatic jazz, wild genre flipping DJ sets, and anything and everything you can possibly imagine that could happen on a stream. Justin Jay features his own Fantastic Voyage label mates to create a wildly diverse experience weekly.
Dirtybird Sunday Showcase – Sundays 7-9pm (DJ Stream): The flagship Dirtybird show features anyone and everyone who has ever graced the release schedule at Dirtybird Records. Expect sets from all your favorites from Ardalan to Walker & Royce to Cour T. This show features anyone who is part of the family.
RENEGADES – Any time any day: Born straight out of Dirtybird campout, this show has no rules and no predetermined air time. Anyone from the Dirtybird roster can call a renegade at any time and drop into the DB Live network. Renegades keep fans on their toes and creates special unpredictable DJ streams.
---
Additional shows on the horizon:
Kevin Knapp presents PLUMP – Saturdays 2-5pm: Our old buddy Kev shows us how to cook and mix all the way from Berlin, Germany. More Details TBA – Premieres mid-September
Lubelski & Wyatt Marshall present Modular Mondays – Time TBA: The guys from Percomaniacs get tweaky with the knobs on a live stream dedicated to modular synthesis. More details TBA – premieres in Sept.
Blakeshine presents – Time and Title TBA: A hilarious play on the old MTV VJ personas, Blakeshine hosts, introducing music videos, and mini-films related to Dirtybird and others. – premiere TBA